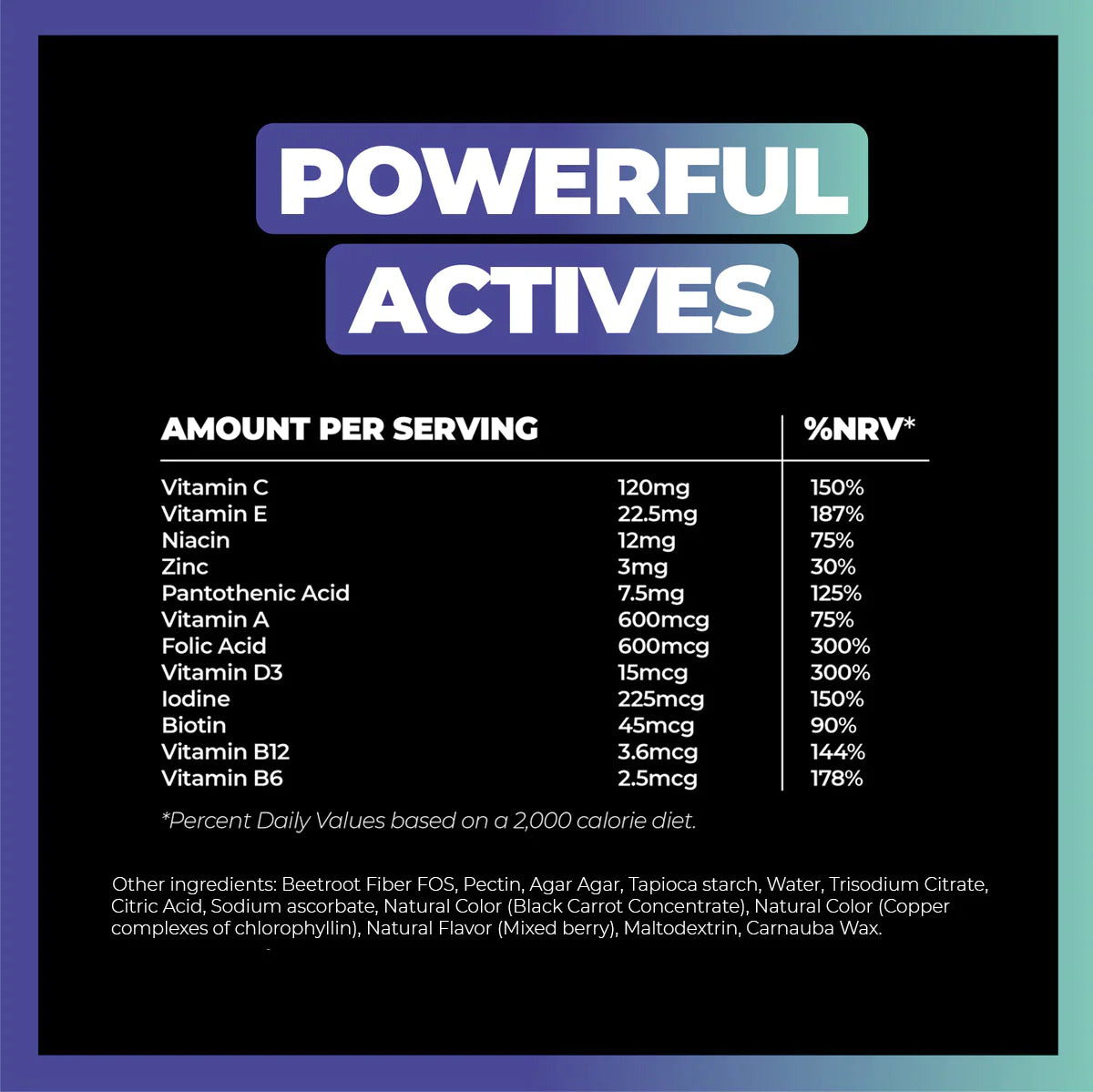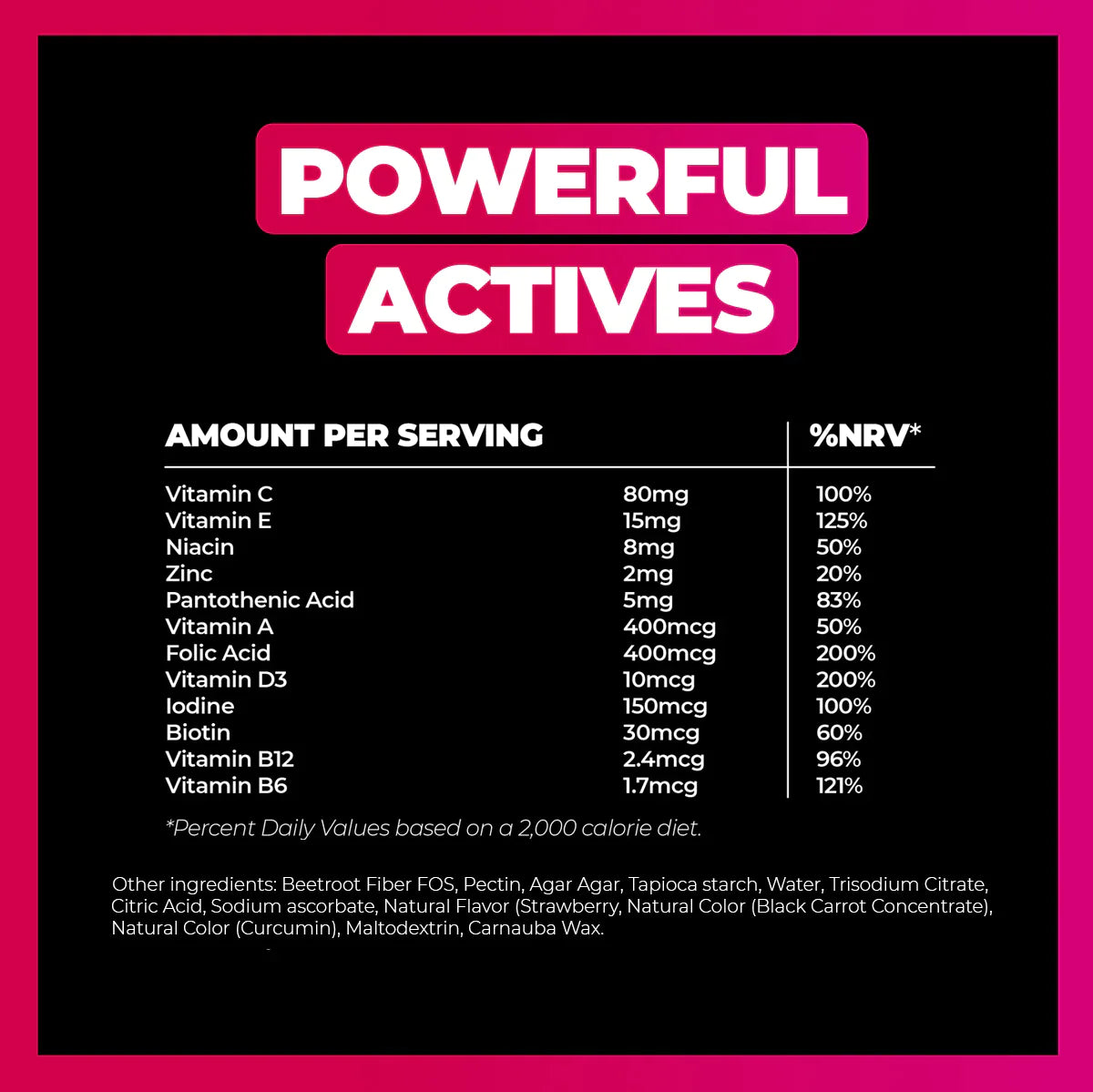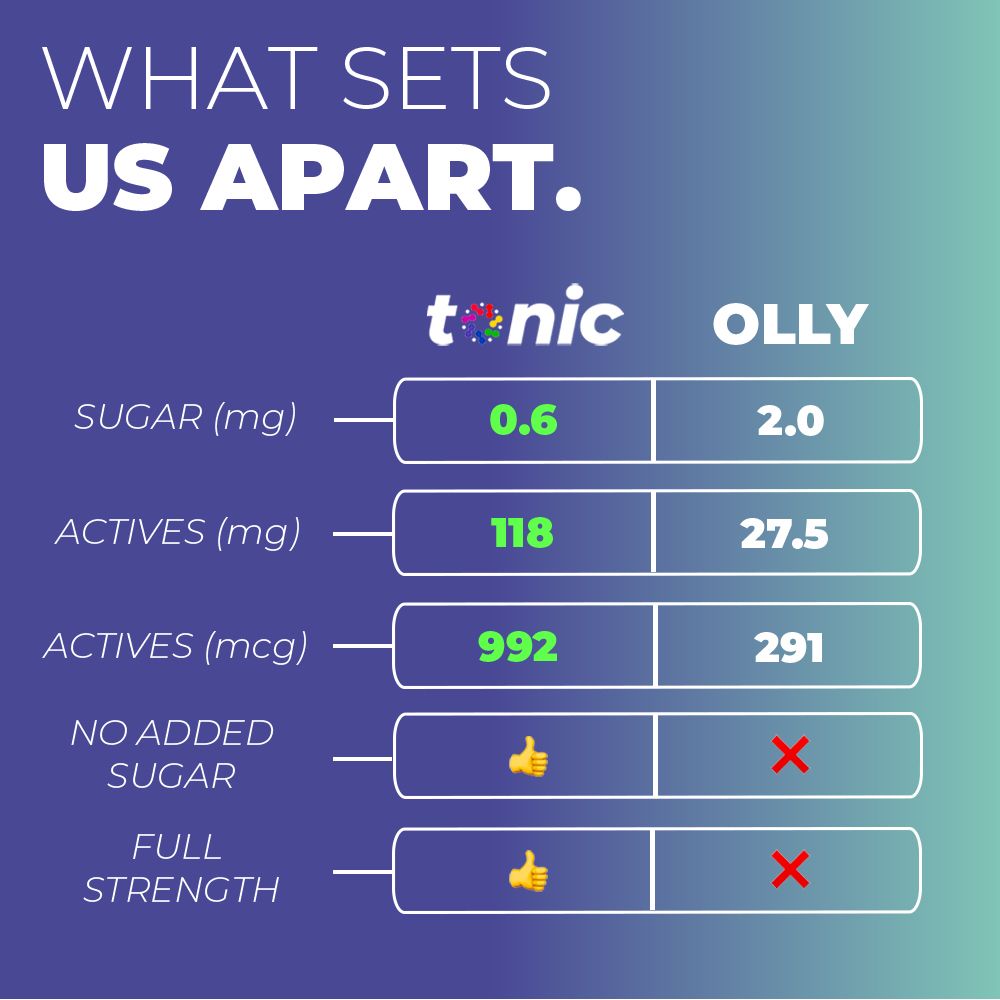 Sale price
$64.00
Regular price
Unit price
per
Get your family sorted & cover their nutrient needs. 
🌱 2 months supply of essential multis.
🔬 Fuel your day and their health. 
🚫 No added sugar, no sweetener, vegan. 
Bundle includes:

120 Adult Multi Gummies - Wild Berry

120 Kids Multi Gummies - Strawberry
View full details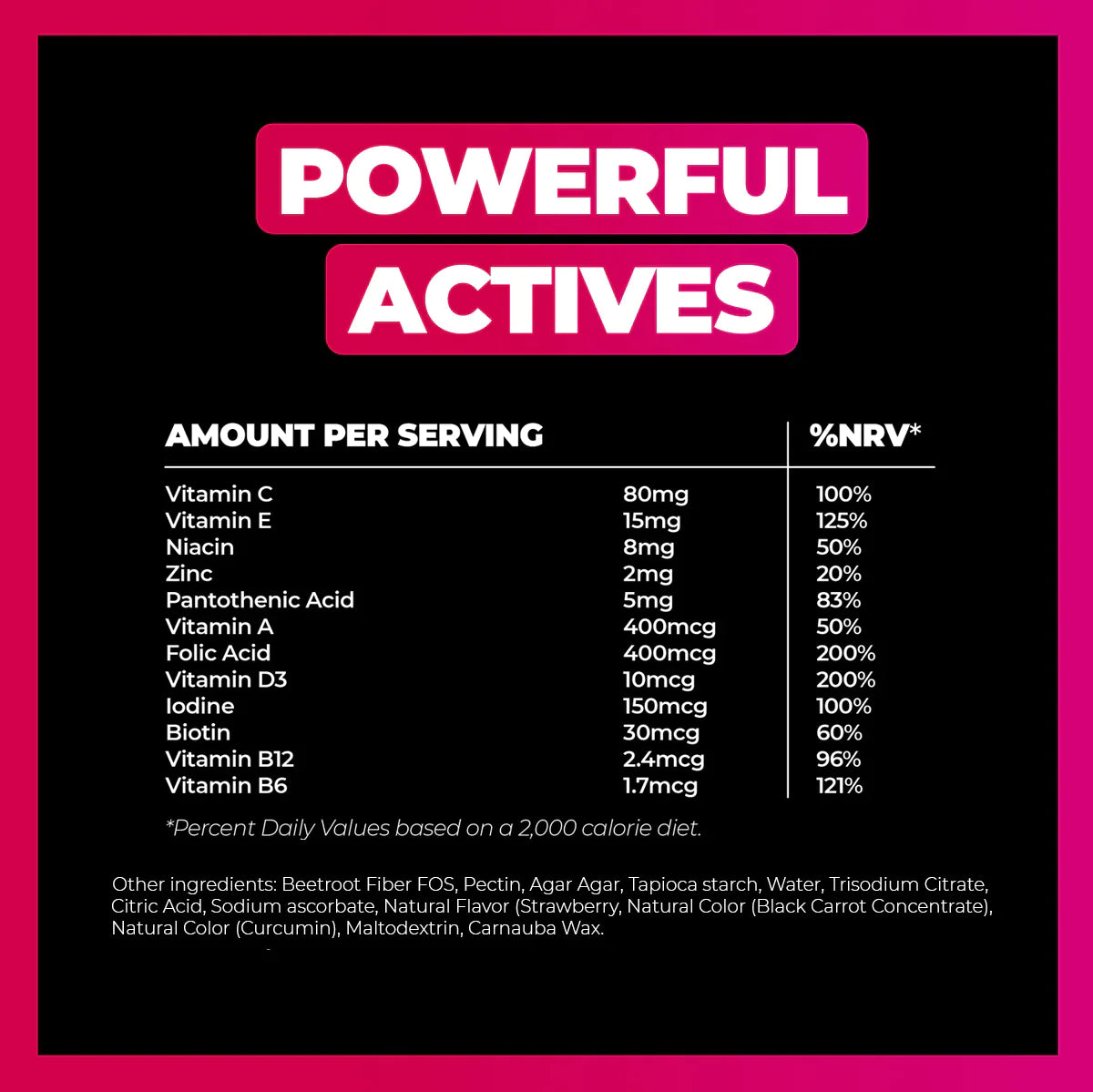 Nutrient
Properties
Per Serving
NRV
Vitamin C
Cognitive Function
120mg
150% NRV
Vitamin E
Nail Health
22.5mg
187% NRV
Niacin
Energy
12mg
75% NRV
Zinc
Skin Health
3mg
30% NRV
Pantothenic Acid
Metabolic Function
7.5mg
125% NRV
Vitamin A
Active Antioxidant
600mcg
75% NRV
Folic Acid
Cell Repair
600mcg
300% NRV
Vitamin D3
Bone Health
15mcg
300% NRV
Iodine
Thyroid Health
225mcg
150% NRV
Biotin
Liver Health
45mcg
90% NRV
Vitamin B12
Red Blood Cell Health
3.6mcg
144% NRV
Vitamin B6
Neurotransmitter Function
2.5mcg
178% NRV
Whole body health
14 vitamins, minerals and plants to nourish your whole body.
Fight fatigue
Can help with the reduction of tiredness and fatigue
Stronger hair, skin, nails
Promotes strong hair and nails, as well as healthy vision and skin
Immune Defense
Helps fuel your immune system so it can do it's job to keep you healthy
Protection of Cells
Protection of DNA, proteins and lipids from oxidative stress and damage
Optimal nutrition. Naturally.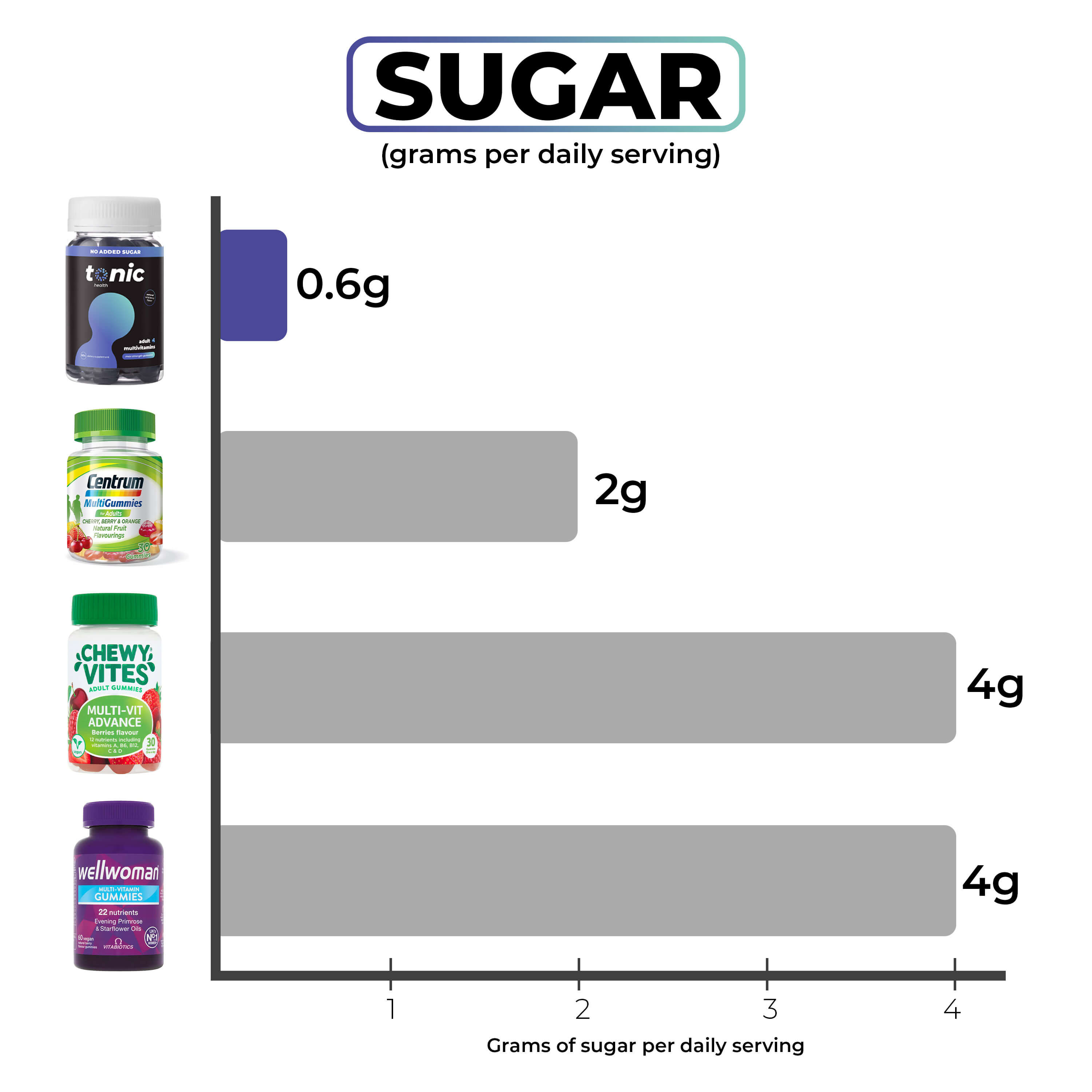 Still Got Questions?
Who are these gummies suitable for?
What is the difference between the Immunity and Multivitamin products?
How many should I take a day and when?
How much sugar per gummy compared to other gummy vitamins?
How do I adjust my order?
Tasty vitamins
These are very easy to take vitamins, they're not very chewy and taste very nice.You get a single months supply as the recommended dose is two a day.
Great flavour vitamins
These very tasty gummies comes in plastic packaging and inside is 60 gummies for kid, recommended daily dose is to take two gummies, so this bottle is enough for 30 days.I believe that this is the best way to give vitamins to a child, I take most of the vitamins this way myself, pleasant and useful in one.Great quality vitamins at all, and price is really reasonable.I can easily recommend it to anyone.
Tasty gummies
These are nice tasty gummies.Great way to get vitamins and minerals into yourself each day.Like having a pick and mix.
Not much zinc
These don't have any added sugar in. They originate from Israel and are distributed by a company in London and there is an email address. It doesn't appear to say they are vegan friendly. You get one month supply in this jar. They cover A,B,C,D,E, zinc and iodine. I can see why they've only added 75% of your vitamin A because not many people lack that. For some reason, you're getting 150% of your daily requirement for iodine, only 30% for your zinc, 150% of your vitamin C and 187% of your vitamin E. Not sure they've chosen to give you slightly more of some and less of others. These taste quite strongly of blackcurrant. They are okay.
Good quality, convenient, lovely flavour - but very expensive.
I like everything about these gummies except the price.While I completely understand that you must pay a premium for quality, £20 for one month's supply is a bit steep. I suspect that anyone who can afford these is going to have a pretty good diet in the first place and not be much in need of topping up their mineral and vitamin intake.They taste fine and are easy to take: but at £160 a year, I'm really not sure they're worth it.
Tastes like cherry
Despite being advertised as wild berry flavoured these gummies definitely taste like cherry to me. That isn't a problem at all though because I prefer cherry to any other berry. They are an easy to chew gummy that come in a child proof bottle. I think the latter is a must when vitamins taste this nice, kids could easily think they are sweets and eat the whole lot.I never actually follow instructions when they say to have two vitamins a day. I only ever take one so although these could be considered expensive if you were to take two a day, just taking one makes them more economical by far.
Easy to take vitamins
These are very easy to take vitamins, they're not very chewy and taste very nice.You get a single months supply as the recommended dose is two a day.
Great tasting multivitamins
These gummys taste great which is really helpful as it reminds me to take them everyday. They are packed full of great vitamins and minerals such as vitamin B12, Vitamin D and Zinc. I take a multivitamin everyday and they really do help my wellbeing in general.