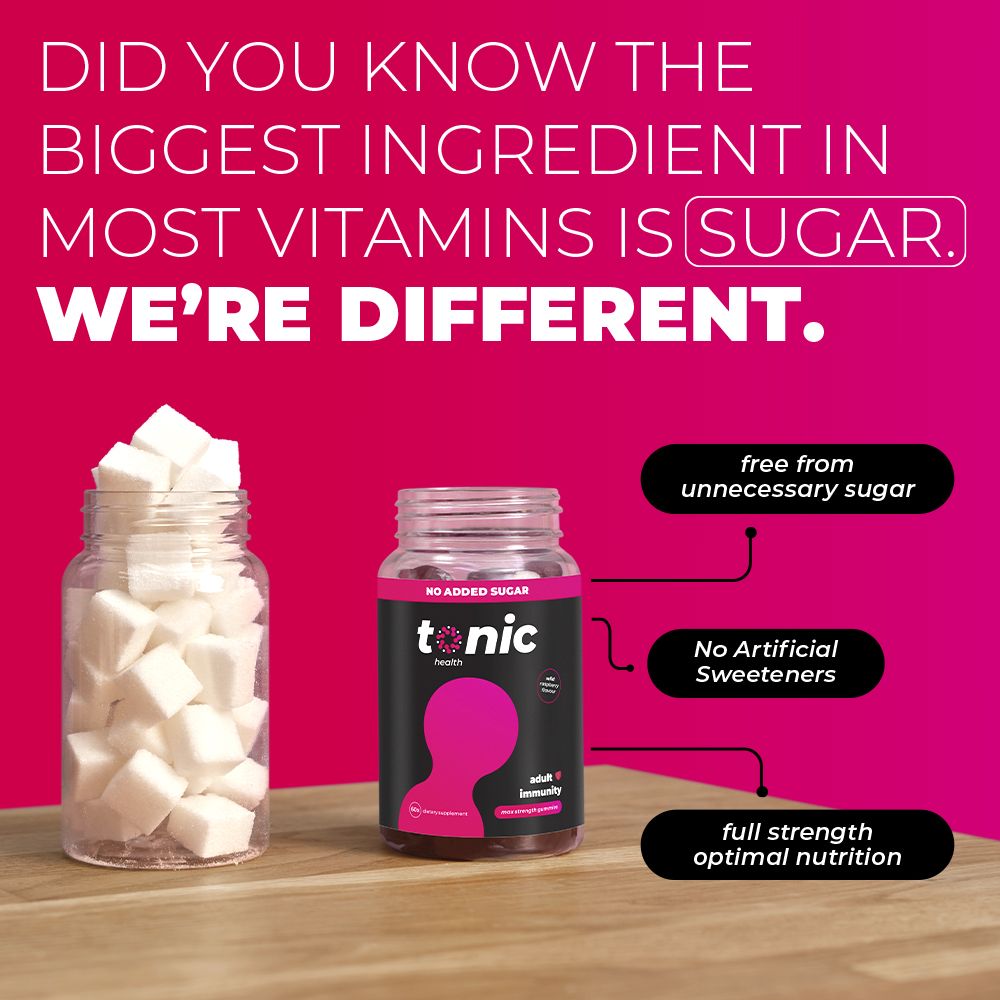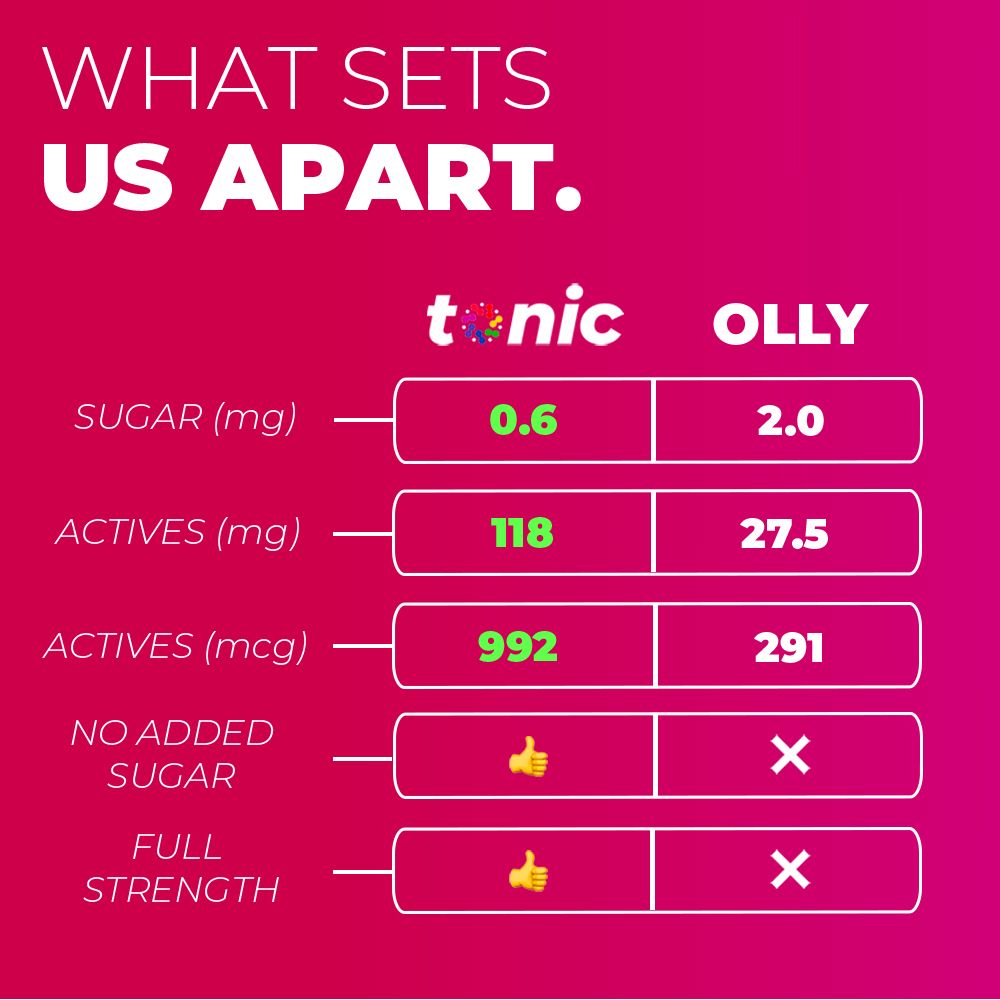 Sale price
$18.05
Regular price
$0.00
/ month
Unit price
per
We all push ourselves. Protect your health.
🌱 2 months of 8 powerful vitamins and minerals.
🔬 Feed your immunity, energy and health.
🚫 No added sugar, no sweetener, vegan.
View full details
Nutrient
Properties
Per Serving
NRV
Vitamin C
Cognitive Function
300mcg
375% NRV
Vitamin D3
Bone Health
35mcg
700% NRV
Zinc
Skin Health
10mcg
100% NRV
Selenium
Immune Function
11mcg
20% NRV
Vitamin B12
Red Blood Cell Health
10mcg
400% NRV
Vitamin B6
Neurotransmitter Function
0.7mcg
50% NRV
Elderberry Extract (Sambucus Nigra 1:30)
Reduce Inflammation
50mcg
--
Immune Defense
Helps fuel your immune system so it can do it's job to keep you healthy
Protection of Cells
Protection of DNA, proteins and lipids from oxidative stress and damage
Fight fatigue
Can help with the reduction of tiredness and fatigue
Collagen Formation
Skin is our largest organ and first line of defense in the immune system so support for collagen formation is wise
Mucous membrane support
Gross...but useful. Mucous membranes stop pathogens and dirt from entering the body
Optimal nutrition. Naturally.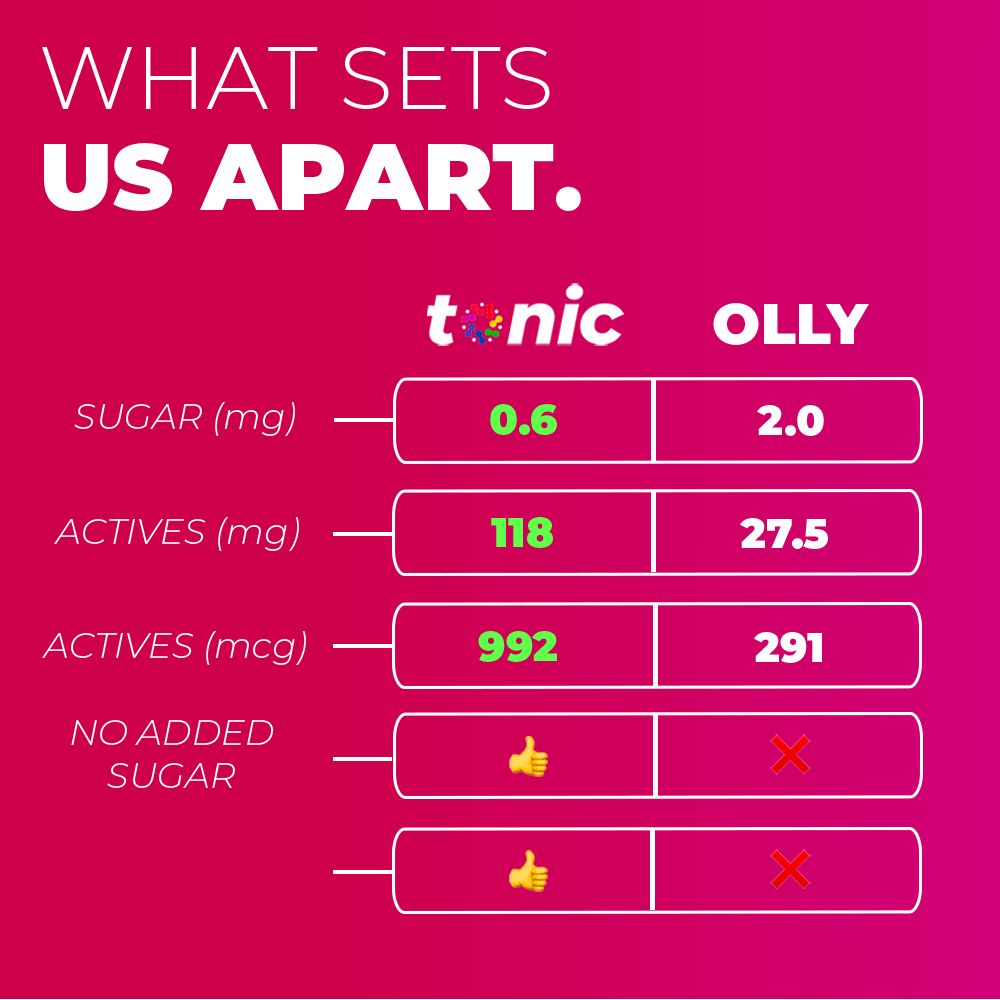 Still Got Questions?
Who are these gummies suitable for?
What is the difference between the Immunity and Multivitamin products?
How many should I take a day and when?
How much sugar per gummy compared to other gummy vitamins?
How do I adjust my order?
Kids multi vits
Purchased for my son who is a very fussy eater. I've tried other brands, Inc the drops and he seems to like these and has taken them daily.
Tasty gummies with less sugar
These gummies contain a selection of vitamins and minerals involved with the immune system including Vitamin C and Vitamin B12. I was pleased to see that these contain Vitamin B12 as recently I have been seeing more articles about the potential benefits of vitamin B12 and the issue of vitamin B12 deficiency. I found these gummies to be very tasty and I like the fact that they contain no added sugar or artificial sweeteners but still taste great. They are chewy but not too sticky. There is a QR code on the container which takes you to a very basic web page with links to Facebook or TikTok which is a bit unusual. There is no indication on the label whether these are vegetarian but the product description on Amazon says that they are vegan. I am a bit dubious of products that say things like 'Carbon neutral' and plastic neutral' without any information to back that up, but it appears that the container is recyclable. Currently I see these listed at £19.99 for 60 (a month's supply at the recommended 2 a day) so this may not be the cheapest option, but in my view a very tasty way of getting these supplements.
Tasty and beneficial.
These raspberry-flavoured gummies are not just tasty but seem to make a difference in how I feel. I've been taking them daily, and my hair and skin appear healthier. The fact that they are Vegan with no added sugars is a plus for me. It's hard to find a tasty supplement with such benefits.
A pleasant way to get your vitamin dose
I chose gummies because I hate swallowing pills/tablets.
A pleasant way to top up those vitamins.
Not too sweet or sticky.
Chew These Properly
These are delicious and they are just the right size, not minuscule, not huge and they work as a treat. There is no scientific evidence that food supplements work but they as well might. And if they do some good while you are eating them instead of the useless sugar-stuffed regular gummies, I am all for it. You can combine them with other gummies in the range and you will have a lovely, sufficient treat and might get something good out of it. Just what is needed.
Fine gummies
It's a lovely blend of important vitamins and minerals, boosted with some elderberry. I don't limit my supplementation to gummies, as quite often it is difficult to make sure you get dosage that is strong enough but when I struggle with my immunity, I pop 1 or 2 of them and enjoy their taste.5/5
Good health in a bite
These gummies were more than just a supplement. The taste was enjoyable, and the lack of added sugar was a plus. Taking them became part of my daily habit, and I felt more energetic. It's refreshing to see a blend of vitamins and natural ingredients aimed at overall well-being rather than just immune support. The raspberry flavor was a treat, making the consumption experience pleasant
Delicious Immune Boost
Tonic Health Immune Support for Adults has been a delightful discovery in my wellness routine. With its 7-in-1 formula featuring Elderberry, Vitamins C, D, and Zinc, these raspberry-flavored gummies offer a flavorful way to fortify immunity. I'm impressed by their commitment to health, as they contain no added sugar, sweeteners, or sugar alcohols, aligning perfectly with my goals. The convenience of a month's supply in a single pack ensures consistent immune support. Tonic Health Immune Support gummies have made boosting immunity both enjoyable and effective, and I highly recommend them for anyone looking for a tasty and convenient immune-boosting solution.