Sale price
$16.15
Regular price
$0.00
/ month
Unit price
per
Get your essential health covered.
🌱 2 months of 14 vitamins, and minerals.
🔬 Fuel your day, energy and health.
🚫 No added sugar, no sweetener, vegan.
View full details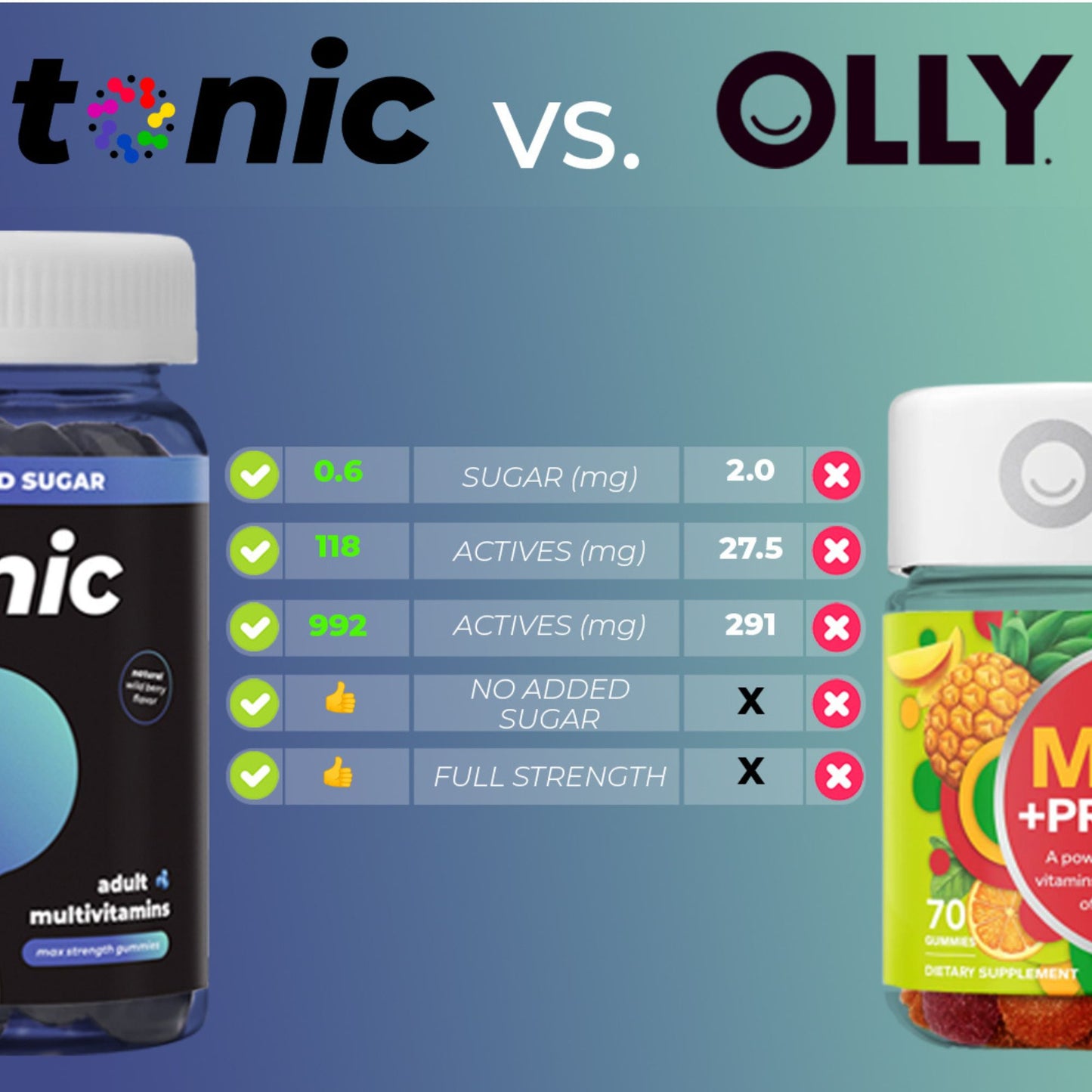 Nutrient
Properties
Per Serving
NRV
Vitamin C
Cognitive Function
120mg
150% NRV
Vitamin E
Nail Health
22.5mg
187% NRV
Niacin
Energy
12mg
75% NRV
Zinc
Skin Health
3mg
30% NRV
Pantothenic Acid
Metabolic Function
7.5mg
125% NRV
Vitamin A
Active Antioxidant
600mcg
75% NRV
Folic Acid
Cell Repair
600mcg
300% NRV
Vitamin D3
Bone Health
15mcg
300% NRV
Iodine
Thyroid Health
225mcg
150% NRV
Biotin
Liver Health
45mcg
90% NRV
Vitamin B12
Red Blood Cell Health
3.6mcg
144% NRV
Vitamin B6
Neurotransmitter Function
2.5mcg
178% NRV
Whole body health
14 vitamins, minerals and plants to nourish your whole body.
Fight fatigue
Can help with the reduction of tiredness and fatigue
Stronger hair, skin, nails
Promotes strong hair and nails, as well as healthy vision and skin
Immune Defense
Helps fuel your immune system so it can do it's job to keep you healthy
Protection of Cells
Protection of DNA, proteins and lipids from oxidative stress and damage
Optimal nutrition. Naturally.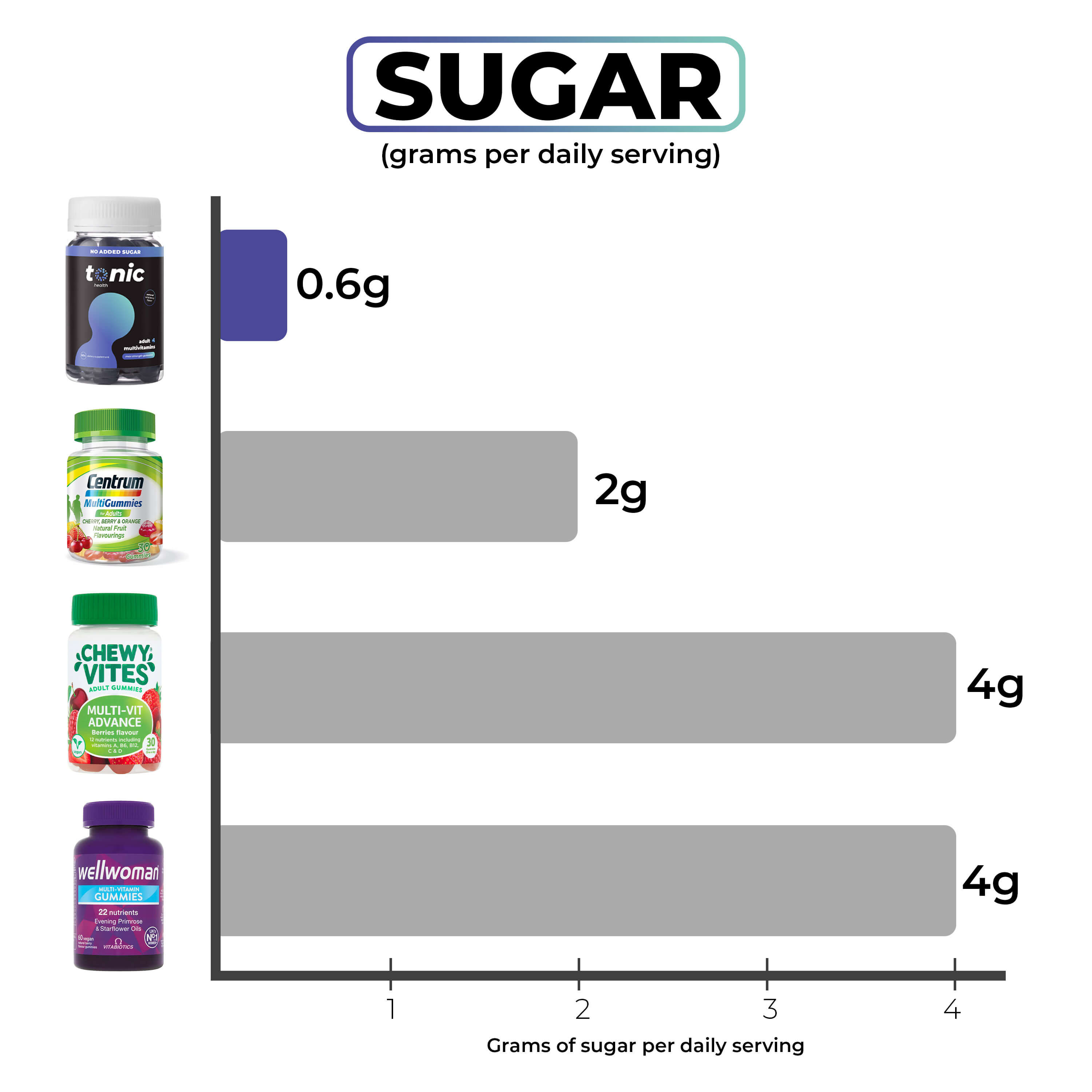 Still Got Questions?
Who are these gummies suitable for?
What is the difference between the Immunity and Multivitamin products?
How many should I take a day and when?
How much sugar per gummy compared to other gummy vitamins?
How do I adjust my order?
Decent gummies
These gummies taste decent, they're a little oily tasting but it's probably the vitamins. Assuming you take the suggested 2 a day then it's a 30 day supply.
excellent supplement for skin
I wanted to try these to just use as a general multivitamin but upon closer inspection of the vitamins list and ingredients I realised that these could be great to tackle some skin issues I have, primarily acne.The reason for that is because it has:Vitamin A - often used in medication to treat acnePantothenic acid - can retain moisture levels thus reducing oil productionZinc (Citrate) - This has been the only variation of zinc that quickly reduced my breakouts, most supplement use other forms so I was pleasantly surprised to see the citrate one in ingredients.Vitamin E - again, helps with moisture levelsThere are other vitamins beneficial for the entire body, including Folic acid, which is needed for female fertility and during early weeks of pregnancy so this supplement would be suitable for a range of needs but for me it has really helped clear up my skin so I would be happy to recommend it!The flavour is mild and slightly sweet (dark berries), very soft and chewy. You should take it with fatty foods though as it has some vitamins that are fat-soluble and you have to take K2 alongside these for the vitamin D3 as it's not included and is the reason for this not being 5 stars.
Great gummies
These nice gummies has no horrible taste, they are easy to chew and take and are great value. since I've been taking im feeling more energized and not falling asleep all the time.
Taste Great
These are great substitutes for supermarket treats. if you have a sweet tooth like me and require some sugar at some point during the day, why not try these ones? They cannot be consumed in quantities, only 2 per day, which keeps the craving in check. And if they do some good in the process, I am all for it (though there is no scientific evidence).
Comprehensive Health Support
Tonic Health Multivitamin Gummies for Adults are a fantastic addition to my daily routine. Packed with 14 essential vitamins, including A, C, D, Zinc, and Biotin, these gummies offer comprehensive health support. The wild berry flavor makes taking them a delightful experience. I appreciate that they contain no added sugar, sweeteners, or sugar alcohols, making them a guilt-free choice. With 60 gummies in a month's supply, they provide great value for the price. Tonic Health has made it easy for me to maintain a healthy lifestyle with these convenient and delicious multivitamin gummies. Highly recommended for anyone looking to boost their daily nutrient intake in a tasty and effortless way.
Low sugar
The main selling point for me with these gummies is their low sugar content. A lot of vitamin gummies pack sugar in to make them taste palatable. My diet is already pretty high in sugar and I am trying cut it down. I definitely don't need extra sugar from my vitamins! So these are berry flavoured, they have a pretty delicate blackcurrant flavour. I wouldn't say they taste really nice but they're not bad either. I'm completely fine with OK tasting gummies if that means the sugar is sacrificed. The range of vitamins included is good, although I would've liked to see some B2. The only problem is £20 for a months supply is just a lot.
good
Nice Multivitamin with multiple vitamins such as: Vitamin A, C, D3, E, B12, B6, Folic Acid and Zinc . There are 60 gummies in the jar and the recommended intake is 2/day so it should last you for 1 month. It taste good and i like the fact that it has no added sugar or artificial sweetener. Also this is 100% VEGAN. Easy to chew. Good quality product. Boost immune system and well being.
Easy to take vitamins
These are very easy to take vitamins, they're not very chewy and taste very nice.You get a single months supply as the recommended dose is two a day.