Nutrient
Properties
Per Serving
NRV
Vitamin C
Cognitive Function
120mg
150% NRV
Vitamin E
Nail Health
22.5mg
187% NRV
Niacin
Energy
12mg
75% NRV
Zinc
Skin Health
3mg
30% NRV
Pantothenic Acid
Metabolic Function
7.5mg
125% NRV
Vitamin A
Active Antioxidant
600mcg
75% NRV
Folic Acid
Cell Repair
600mcg
300% NRV
Vitamin D3
Bone Health
15mcg
300% NRV
Iodine
Thyroid Health
225mcg
150% NRV
Biotin
Liver Health
45mcg
90% NRV
Vitamin B12
Red Blood Cell Health
3.6mcg
144% NRV
Vitamin B6
Neurotransmitter Function
2.5mcg
178% NRV
Whole body health
14 vitamins, minerals and plants to nourish your whole body.
Fight fatigue
Can help with the reduction of tiredness and fatigue
Stronger hair, skin, nails
Promotes strong hair and nails, as well as healthy vision and skin
Immune Defense
Helps fuel your immune system so it can do it's job to keep you healthy
Protection of Cells
Protection of DNA, proteins and lipids from oxidative stress and damage
Optimal nutrition. Naturally.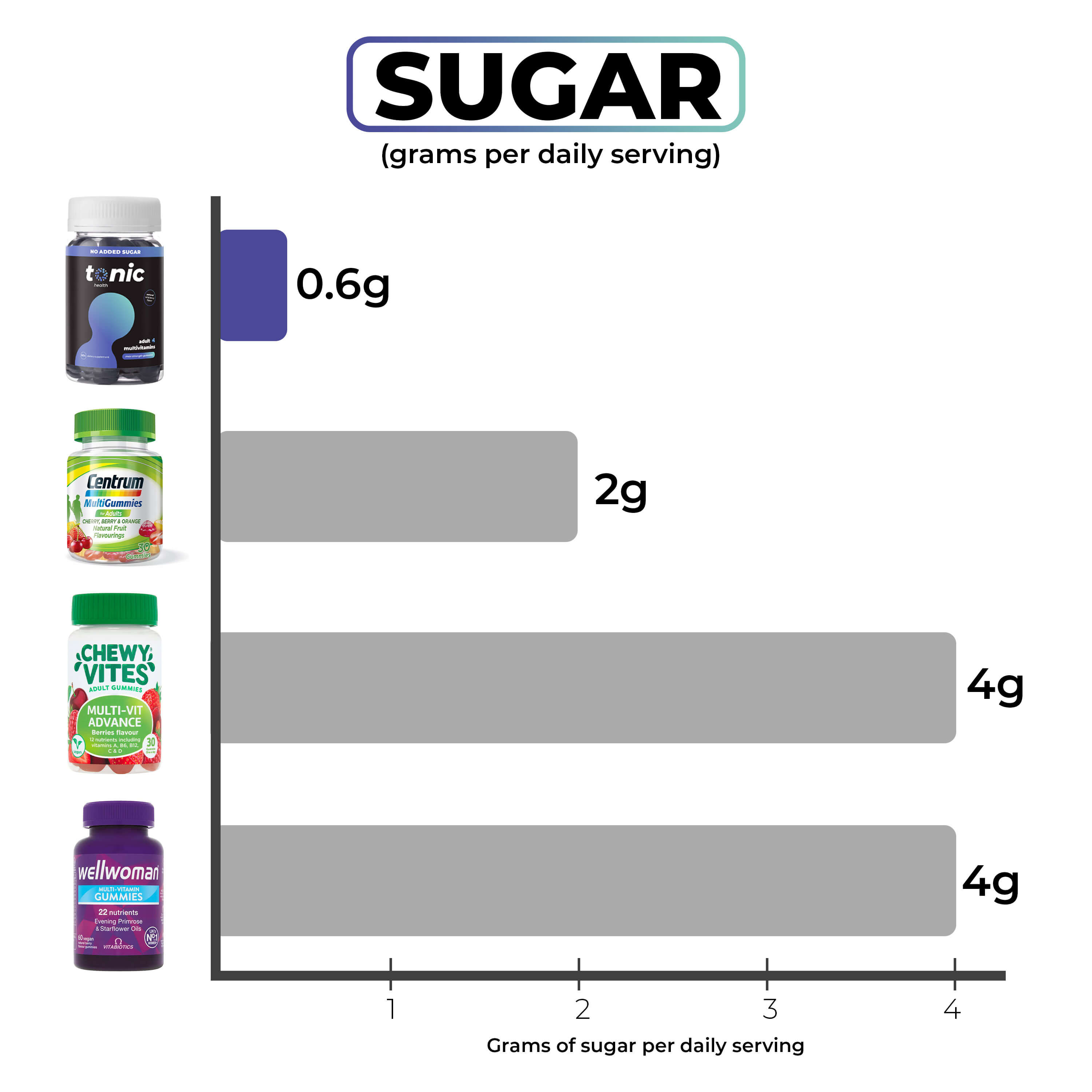 Still Got Questions?
Who are these gummies suitable for?
What is the difference between the Immunity and Multivitamin products?
How many should I take a day and when?
How much sugar per gummy compared to other gummy vitamins?
How do I adjust my order?